[III] ... and then The Regiment Dined & Danced and Sang ...
...against the splendid setting of the Arts Festival's Gothenburg Centenary Exhibition of 100 paintings...

Enticed to dine by the tune of Pipe Major Garry Nicholson, the Regiment relished fine food created by Goth Chef Andrew Laurie [and The Prince got to the Drambuie early on].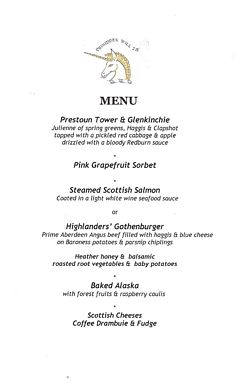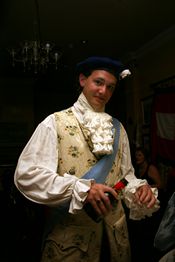 First up was The Haggis with Glenkinchie - not as simple as it sounds. Next The Highlanders' Aberdeen Gothenburger recalled Cope's embarkation in that town after the redcoat march there from Inverness in his bold but doomed attempt to reach Leith ahead of The Prince in September 1745. The dessert from USA's frozen Alaska was for the Colonel's home remembrance and delectation. And The Prince of course served the Drambuie from his secret recipe along with the Scottish cheeses as the Colonel Agitant proposed: 'The King wherever he may be'.

click on all images to enlarge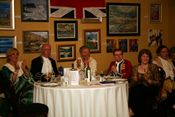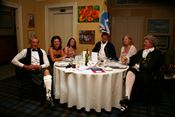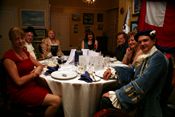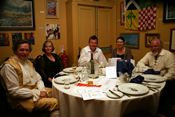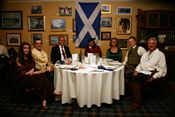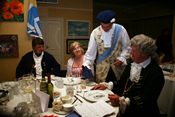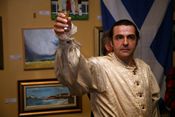 Les danseuses et la chantreuse

Piper Major Kenny Campbell and his daughters Kirsty & Heather regaled the Regiment as it dined and Coreen Scott sang delightfully - including The Poet Laureate's Lady Gardiner's Lament from the Battle of Pots and Pans.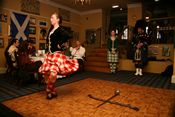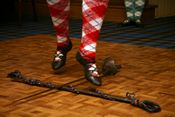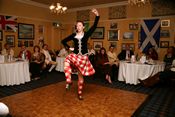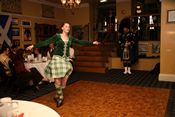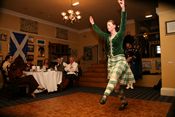 ... and the Purpose of it All?

The Dinner was the 'Muster Roll Moment', the 'Call to Arms' for the September re-enactments this year. Much is planned between the Declaration of King James VIII at noon on September 17th at The Mercat Cross in Edinburgh and the battling denoument in Cuthill Park on the afternoon of September 20th and the ceilidh that evening. But this can scarce take place without the Regiment itself having its own Colours which The Prince, who established the Regiment by Warrant at his Holyroodhouse Palace Banquet on September 20th 2007 was pleased to present - first to the Colonel-in-Chief, he to the Colonel Agitant, and finally he to The Sergeand!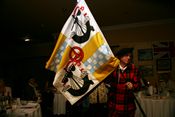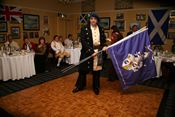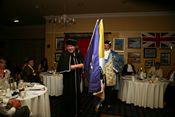 Fullest details of the September 2008 programme are linked HERE.




Published Date: July 31st 2008