Scottish Ministers approval for Prestoungrange Arts Festival [2006] ....
... Ministers recognise PAF [2006] as an acceptable organisation to request Community Right To Buy

It might sound like a bit of detail, and it is, but it is an important piece of detail.

After lengthy discussions, and amendments to the Mem&Arts of the Prestoungrange Arts Festival [2006] Limited by Guarantee, it has now been deemed an acceptable organisation representative of the EH32 9 community, to apply to Scottish Mnisters for our Community's Right to Buy the Old Fowler's HQ.

click to enlarge the letter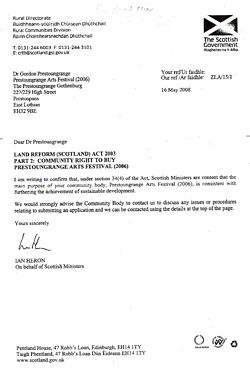 That of course is not to say Scottish Mnisters will accept our application of course.

Tom Ewing reports that the necessary quantum of signature collecting is now virtually complete and the formal application can shortly be tabled.


Published Date: May 28th 2008