In Search of 1.5 Pounder Light Field Guns and Cohorn Mortars
Can Anyone Help Locate Cope's Artillery for Re-enactments?

Edinburgh Castle's One O'Clock Gun Association is offering its support - and has provided the illustration of the 1.5 Pounder shown below. But the word is that 'working' examples of the artillery Cope had at his disposal on September 20th and [momentarily] on the 21st 1745 are around and about .... so this NewsNet asks for help in seeking to locate them.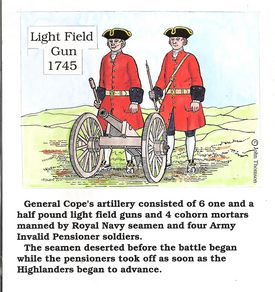 Historians of the engagement will know that the Camerons came under fire in Tranent churchyard on the afternoon of September 20th as the result of a controversial manoeuvre initiated by O'Sullivan much to Lord George Murray's dismay. Placed there to secure the eastern flank, they took it upon themselves to open fire on a government Customs Collector, Walter Gossett, who was doing his own scouting mission. He reported back to Cope who sent two 1.5 pounders which fired on the Camerons wounding several before Lochiel withdrew them and headed further east.

On the morning of September 21st, as the Camerons charged the artillery which was all on the Hanoverian right flank, the navy and pensioner gunners ran for their lives taking the powder and horses with them leaving Colonel Whitefoord and Master Gunner Griffith to fire just a single salvo. [The 1995 re-enactment did indeed have a merry collection of only partially 'authentic' artillery pieces as shown below click to enlarge, but where are they now?]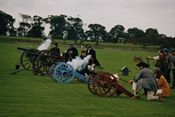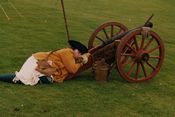 It is these two aspects the Trust wishes to re-enact if not in 2008 most certainly in 2009. The churchyard still stands and we have naval and pensioner runners in place, but we do need the artillery pieces.


Published Date: April 8th 2008