Kurri Kurri Destined for 'Guinness' Book of Records
Parable of Talent: $5000 to $95000 by Year 2 for 'Towns with Heart'

Wendy Franklin was invited thirty months ago to take on a role in Kurri Kurri New South Wales for which the sum of $5,000 had been set aside. It was available to an appropriately motivated individual who was prepared to gather together the local community in an effort to 'improve' the town. The $5,000 came from the State Government's own funds but after year 1 would need to be provided by the local Council. It had to meet Wendy's remuneration, office rental, all services and any fees for artists. And the town's ubiquitous kookaburra motif.

Click on all images to enlarge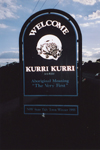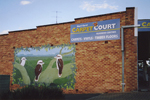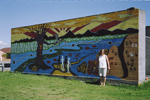 Sounds a familiar challenge to some in the Global Association but even Chemainus started life with $10,000; and those were 1980s dollars.

A Council member had heard of, and indeed visited, Chemainus. But for Wendy Franklin it just seemed like a good starting point for her second career. As a 'bounty hunter' for her husband's Credit Union [true story] she found the funding to travel to Sheffield Tasmania and talk there with John Dyer and other members of its Murals Society. They shared their successes and their problems and Wendy came back convinced [i] it could be done and [ii] in doing it good contracts would need to be agreed with all artists and site owners. Your Roving Reporter heard about its progress from a presentation she gave to an Economic Development Conference in New South Wales in October and promptly drove the 2000 km round trip to see what the excitement was all about.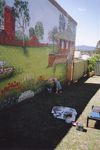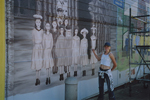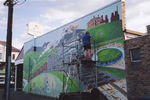 So what's the 'Guinness' record? By November 7th 2004, with three artists still painting that day, she had surpassed 20 murals. She has officially convened the town's Classic Car Festival and a Farmers' Market. The first murals' trail leaflet is already in print and the murals book is due for publication within 12 months. Financially, she had already leveraged her starting $5000 to $95000 with an outstanding display of communty wide support.

WHAT'S THE KURRI KURRI SECRET?

There's really no secret to the Kurri Kurri success story that the rest of the Global Association's members don't already know about ..... except what Wendy Franklin in the role of minimally paid leader gets up to. She's a whirlwind of a worker. She's talked umpteen retailers into sponsoring half of every murals costs, gets her paints at incredible prices from the local wholesaler before recanning them, borrows scaffolding from youngster's parents, gets the good and the not-so-good kids from the school to join the fray, and drives classic car drivers into a fee paying frenzy to have their 'own' models included at the 1950's Elvis' Movie at the DriveIn.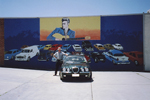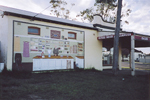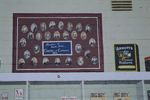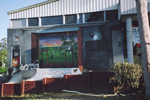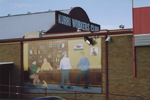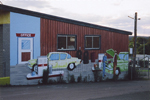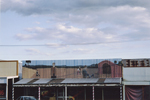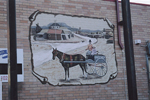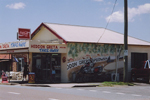 A major local pre-loved furniture store has come up with perhaps the world's most multidimensional mural ever. But that's all small beer compared to her current plan to set the local Fire Station alight next door to him, not literally but mural-wise.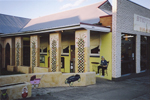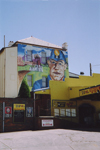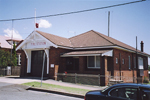 So what comes next

Everyone we spoke to, locals or visitors just casting their eye around, were convinced: 'More Murals please' They are immensely appreciated and are making the whole town feel much better about itself.

But strategically, like so many of us in the Global Association, there is a wider plan emerging. Kurri Kurri's industrial rationale – coal mining - has long since passed it by leaving behind an in-supportable infrastructure unless something new gets created to leverage it. One instance is the magnificent Kurri Kurri Hotel standing in need of great refurbishment at the head of Rotary Park in the centre of the town. Its just got new owners who are also about to set it alight metaphorically.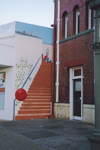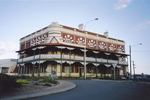 And again, like more than a few of us, Kurri Kurri has an opportunity for traffic interception. Four million travel across the town's hub each year in their cars and coaches without stopping. They are on their way there and back to the world famous Hunter Valley Vineyards coming from Newcastle or from Maitland on the New England Highway. Phil Presker's mural of the Coal Train at the major intersection is nearing completion after unavoidable delays whilst he had two eye cataracts attended to, and more clearly needs to be done to bring short diversions into the town square and sensible provision once they get there. The all important town centre toilets have already been given the murals treatment but more than a few nearby retailers have yet to feel the full benefit.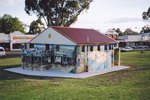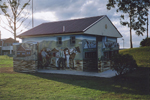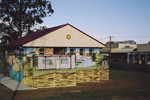 Coincidentally, The Masonic Hall is now a ceramics studio running classes, and future initiatives are planned. Thus far a splendid ceramic barbecue graces Rotary Square.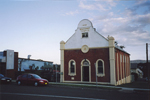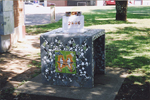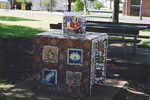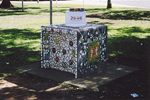 Ready to Join the Global Association

An important purpose of the visit was to see whether Kurri Kurri felt there was going to be benefit in joining the Global Association. The good news was that it had already seemed to them a good way to go. And there was more than considerable enthusiasm for having the opportunity to share the Kurri Kurri story at Bowen 2005 and in Prestoungrange 2006 whilst listening more than carefully to what accumulated wisdom others there too had to share from their own towns across the globe. Certainly The Advertiser locally was pleased to report on November 24th 2004 on the implied 'international recognition' that was implicit in such membership.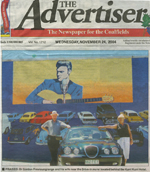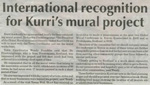 Finally, there was delight that Sheffield, which had been such an important inspiration, was to host the 2008 Global Conference so close to home. [And from the Global Association itself proper note has been taken that Kurri Kurri is the second Sheffield inspired town down under that has joined in 12 months … Hot on the heels of Foxton, New Zealand. It's a town not to be missed in 2008 by any who can plan that journey.]


Published Date: November 7th 2004