Belfield Reproduction TeaSet Ready for The James Park Lounge
After two years searching high and low, across Scotland and south of the Border, and six months after Jim Forster unearthed the original teapot to guide the making of the 'test' mould, the first Limited Edition of 100 Belfield Reproduction TeaSets will be ready for the Grand Open Day at The Prestoungrange Gothenburg.

Priced at £38 inclusive of VAT, the TeaSet of three items goes on sale from June 19th and will also be in use by all taking tea in the James Park Lounge from that day forward. The TeaSet includes three items - a 'brun coo' teapot, a milk jug and a small basin.

The 'final' Belfield Reproduction TeaSet, and its colouration, will not be unveiled until June 19th, but the test mould has already yielded its first excellent artefact that captures all the fine virtues of teatime in the first quarter of the last century. It is the teapot itself, and it is is pictured below on the table before Tony Carter and Lady Prestoungrange at Tony's unique tea pot factory in Debenham, Suffolk.

Click to enlarge:Green is the original & pale brown is the test mould outcome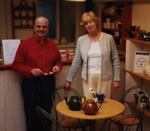 For any and all who have experienced the total indignity of contemporary stainless steel with (i) a pot designed to send tea slopping over the table no matter how carefully one seeks to pour, (ii) a jug that is incapable of adding milk without spilling and (iii) a pathetic sugar bowl - this TeaSet is a must.

And since there are only 100 to be made, each numbered with its own Certificate of Authenticity, it is advisable to phone directly to reserve your personal TeaSet right now on 01875 819922.

Tony Carter TeaPot Exhibition Planned for Late 2004

Tony Carter is the UK's leading speciality teapot maker. From his works in Suffolk he exports across the world including Russia, Australia and the USA. He has agreed to offer an Exhibition of Speciality Teapots at The Prestoungrange Gothenburg later in the year - which for those who collect teapots as ornaments (teapotiary perhaps?) is going to be a truly amazing occasion.


Published Date: April 22nd 2004