Lilian Boffin Joins the Courts' WebMaster .. and More...
April and Mathew Boffin have a daughter, Lilian. She's already visited the NewsNet offices [as pictured and click to enlarge] but is not yet rumoured to be seeking a career in IT!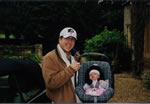 Also visiting NewsNet offices was Dr Hans Maurer, the Baron Courts' and Burke's Peerage Go-fer in New Zealand. He was on his way to IMCA's Annual Professional Congress in Boulder Colorado with Dolphinstoun and his fiancee Laura Burman pictured right [that party date is April 24th @ Greens Norton, Northamptonshire]. In the left foreground is Molly Ainslie, IMCA colleague who manages global doctoral programmes of which Hans Maurer is himself a graduate in logistics supply chains.

Click on all pictures below to enlarge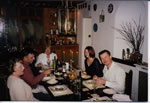 And for any who had forgotten what a grand time Spring truly is in these islands, take a look at the daffodils at Wintoun House pictured below.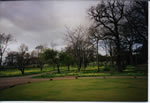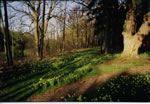 Published Date: April 9th 2004