Work in Progress for the Lord Mayor of Goteborg on July 23rd
The impending visit of the Lord Mayor of Goteborg, Jorgen Linder, with his wife Lisbeth, to Prestoungrange on July 23rd is being preceded by a great deal of activity - as should only be expected.

The whole town has been invited of course, and Anne Taylor is making careful note of who says they are coming. We expect a goodly crowd on the beach from 12 noon till 1 pm and then fewer who have the particular lunch invitation continuing inside The Gothenburg from 1 pm till 3 pm. It will be the first hospitality event in The Gothenburg since John and Scott Murray closed its door some six years ago, and the first of the new Arts Festival era. For the occasion the Prestonpans Town Crier will be in attendance from 12.30 pm and the flags will be fluttering in the breeze.

Click on image to enlarge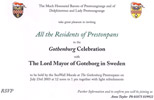 The current plan is to have the Edwardian bar area restored by July 23rd for the luncheon buffet and the lounge area available for talking and circulating. No seating will be available nor will smoking be permitted, but Bill Robertson's restoration has promised two toilets and running water in the bar area! With luck all the north facing function areas downstairs will have been undercoated and the stained glass, vertical and horizontal woodwork and fireplace copper will have ben restored. The dumb waiter although not for future use will have been made a feature in the lounge as well.

Click on images to enlarge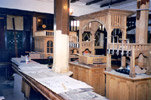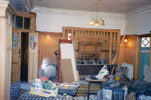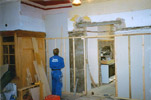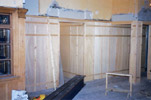 Whether the scaffolding for the north facing exterior and balconies will have come and gone by the day is still a moot point, but when it does The Gothenburg's role as a pigeon sanctuary will also come to an end with a £1700 removal programme. Meanwhile they continue to enjoy life atop the chimney with their own familiar vegetation.

Click on images to enlarge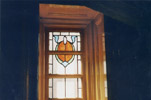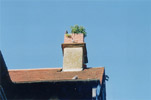 Inside The Gothenburg others are also labouring long and hard. The Microbrewery is now almost ready ( really ) to receive the equipment so long planned by Iain Turnbull and George Thompson, as shown in the picture below. The ventilation system, the drainage and even the Hollywood lighting have all been careful thought through. And as soon as possible Iain and George will begin test brews for Fowler's (Prestoungrange) Ales, the new company established at The Gothenburg to bring the memories of Fowler's in the town back to life. None will be ready by the day but imports from Sweden and the help of Belhaven's in Dunbar will more than compensate.

And Kate Hunter, who has already completed two major murals for the Arts Festival, is hard at work in the Forth Lounge upstairs facing north on her third. Shown below is her line drawing, the work as it emerges on the boards and the wall at the Conn's home opposite The Gothenburg where it will hang and be unveiled on July 23rd. Maggie Conn's daughter is assisting Kate in the work.

The new mural includes images of John Muir and philanthropist Thomas Nelson whose Trustees funded The Gothenburg's original £5000 for the construction work in 1908.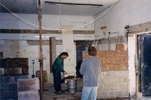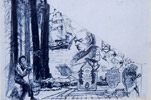 Click on images to enlarge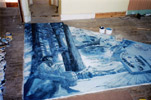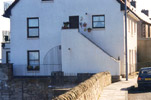 Published Date: June 16th 2003