The Prince Raises his Standard at Glenfinnan as the Camerons Arrive - Late!
No doubt about the date - August 19th - nor the late arrival of the Camerons ...

August 19th was the date the Prince had set for the Clans to rally to his standard. He'd written numerous letters from Borrodale seeking support and he'd met with Cameron of Lochiel and persuaded him to bring some 700 clansmen to Glenfinnan. Murray of Broughton had now joined him too.

That morning the Prince had travelled the final leg up Loch Shiel and come ashore to wait. He had just a few hundred followers at that moment including his Clanranald bodyguard which had accompanied him from Kinlochmoidart House to three galley boats at Dalilea Pier from whence he had travelled to Glenaladale to stay overnight on the 18th.

The Camerons were late to arrive at Glenfinnan - well into the afternoon, but arrive they did as promised, pipes aplaying.. And with Lochiel's public support the Prince's army at Glenfinnan quickly grew to some 1200 followers.

The Prestonpans Tapestry will of course proudly tell the tale!

click pictures to enlarge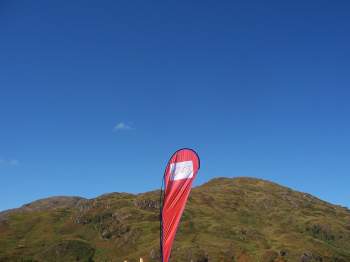 The precise spot where the Marquis of Tullibardine planted the standard after he'd 'crossed the river' is not clear. It is unlikely to have been way up atop one of the several hills at the head of the loch. Tullibardine was an elderly gentleman. But there is no doubt about the standard's design, or that the Marquis , eldest brother of Lord George Murray, was entrusted with planting it firmly in the ground at some stage. A different version suggests the MacPhees actually carried the standard higher up the hillside, and that brandy was drunk in celebration.

To remember the occasion the Battle Trust's Trustees took along their own tear-drop standard to plant firmly at the head of Loch Shiel. And the Prince [aka Arran Johnstone], as he must have done so long ago, gazed along that very loch as he waited. The other flags waving on the hillside are the full arms and the banner of the Alan Breck Regiment of Prestonpans Volunteers.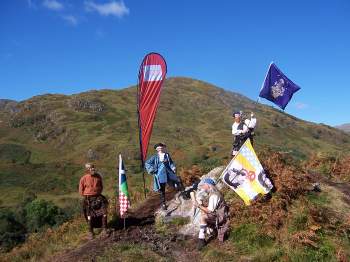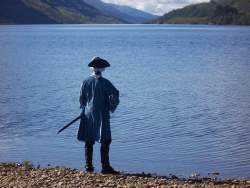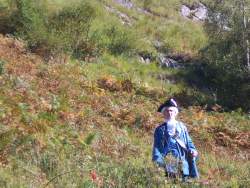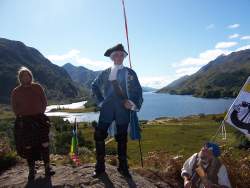 Published Date: October 7th 2009