Huaquan Village's 250m Mural Unveiled April 25th: can you be there?
Majestic project launches Chinese membership of Global Association

Chia Chang Liu writes:

"Art the purest form of expression that comes from our soul. While its natural beauty is priceless, one can not expect to become rich being an artist in our society. Throughout my life, I have experienced many triumphs and disappointments. However, I have never once regretted choosing art as my profession.

"I've composed over two thousand songs and directed nearly one hundred films in the past 50 some years of my life. In fact, I have spent so much time creating art that it is almost a blur now. But, what remains most vivid to me now is the fact that I am presently working on my last piece of artwork in a very special world heritage site that is not only surrounded by nature but also rich in culture. I've chosen Mount Longhu in Yingtan, Jiangxi to fulfill and complete my final project the Huaquan Village. I've created an Art Village, which consists of 50 exhibition galleries and a 250 meter long mural.

"I have been to and experienced many art related venues throughout the world, it is rare to find one that exhibits only art works. It takes someone whose interest is not financial gain to make it happen. I recently visited Dafen Village in Southern China, which is poorly organized and chaotic in appearance.

"My wish is for Chinese artists to be able to reach the next level, have room to expand their horizons and gain the respect that they rightfully deserve. This was the inspiration behind my gallery project. I am providing 50 galleries free of rent for 3 years to artists.

"Many say that I am foolish to orchestrate a losing proposition and why someone who is not a businessman or a large corporation does something like this. My reply is that I was born to this world empty handed and at the age 70, the only thing that I have is a little fame. It is my hope that I will be able to promote some true artists with the bit of influence that I have, so that this torch can be passed on to the next generation and beyond. Isn't one's
spiritual comfort just as important as their financial status? Completing this project will make me very happy for it not only supports art and artists, but also creates additional exposure for Mount Longhu area as a desired destination, and stimulates the local economy.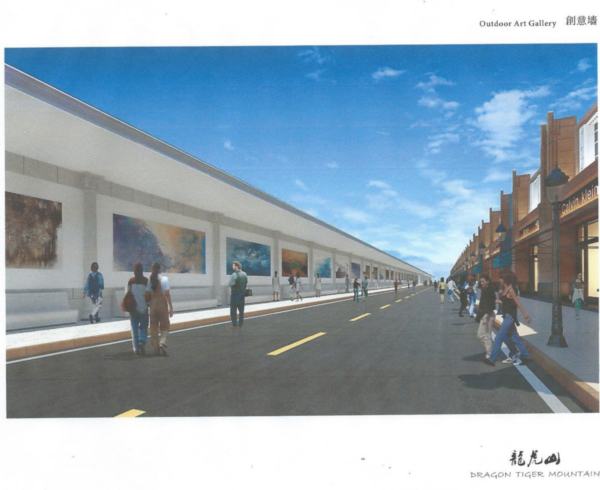 "We have invited artists from all different parts of the world to jointly complete this 250 meter long mural with the Chinese artists. This will enable all artists to be recognized equally for their abilities and creativity. The mural will also allow visitors to enjoy artwork while vacationing in this spectacular natural scenic area. It is our hope that all visitors can be blessed with spiritual fulfillment and be touched by the truth, the good and the beauty portrayed in these pieces of artwork.

"I've invited the Founder of Global Mural Association, Dr. Karl Schutz and the current Vice President, Stefen Juenemann to Mount Longhu. They have helped many towns including Chemainus, in BC, Canada improve tourism through mural programs. They along with a group of Chinese artists discussed how to preserve the mural and make the mural everlasting. We have reached a consensus and are all willing to voluntarily contribute to the spiritual fulfillment of mankind. The only stipulation that I have for every art gallery in this art village is to donate 1% of their income to charity. This is my dream as well as my last piece of artwork.

"During this process, I have been able to receive help from a business friend that has similar aspiration, which allowed me to complete this project. I could not have done this without the support and encouragement from my friend whom I thank from the bottom of my heart."

_______________________________________________________________________

Ed: Longhu Mountain Resort was designed and built by the famous musician Liu Chia Chang, who employed his years of art knowledge and superb art inspiration in its design. It is located in the birth place of Taoism – Dragon Tiger Mountain, Yingtan City, Jiangxi Province. It is 500m away from the Tourist Center of Dragon Tiger Mountain, 15 minutes car-ride to the downtown area and railway station of Yingtan City, and it is 100 minutes to the Nang Chang International Airport. The resort is conveniently located and close by major tourist attractions. It is also neighbour to one of the most challenging golf course in the world as well as the "Dadao qiankun" scenic zone that displays Taoist culture. There are 150 suites in the resort and top grade private clubs and villas. It is also equipped with restaurants, lobby bar and meeting facilities, as well as deluxe karaoke, tennis court, swimming pool, basketball court, chess and card rooms and massage rooms.

Resort Address: Longhu Mountain Resort
No.21, Tianshi Road
Yingtan, Jiangxi Province, China


Published Date: February 27th 2015