Chemainus Murals Really Are 25 Years Old This Year!
What a pace setter for us all

Chemainus not only showed how to set up and run a great murals town as a star tourist destination. Its founding inspiration, Dr Karl Schutz as now is, went on to make himself available virtually pro bono to the rest of the fascinated world. And myriad towns that did not actually ask for advice from the horse's mouth nevertheless looked hard at the model, or the way Chemainus' disciples had interpreted the model, and went for it too.

The most extraordinary aspect of the Murals Town Phenomenon is its outstanding rate of success. Very very few failures are ever reported when community groups [not apparatniks mind you] set their minds to it. They floursh in an environment of naysayers and honouring the history of their community. And when they have 'enough' murals creative art moves inexorably forward in different ways on new territories to maintain the momentum. "But it all started with our murals", they all acknowledge. [And in the case of Chemainus the omnipresent log ... first sawn by then Premier Bill Vander Zalm and Graham Bruce, then Chemainus Mayor, and the feat repeated again 25 years later by that same Graham Bruce with today's Mayor Jon Lefebure.]

click on all cuttings and image to enlarge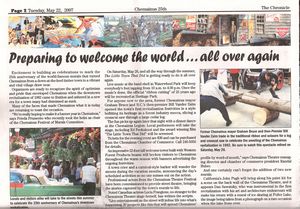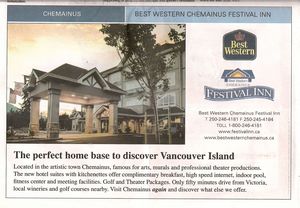 So when Chemainus celebrates its 25th anniversary we should all take careful note not just of the fact, or of how they choose celebrate it, but that the dynamic is still there. And goddamit that mill might finally close at last so they say - another rumour from Karl perhaps? Now let's go for our marina, waterfront apartments, an open air theatre to supplement our recent Best Western Suites Hotel, Retirement Homes and Arts Theatre.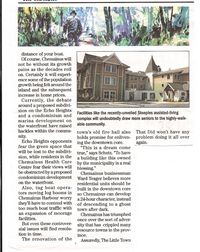 Chemainus Celebrates 25 Years



Published Date: July 6th 2007