VETs are especially welcome at The Gothenburg ...
East Lothian Veterans' Group meeting at The Gothenburg

It was a particular delight to see the new East Lothian Veterans' Group meeting for their inaugural breakfast at The Gothenburg. The fine arts and crafts building was funded in its entirety [for £2,500 in 1908] by Thomas Nelson who sadly died in the trenches in World War I just over a hundred years ago - at Ypres. His descendant came to The Gothenburg in 2004 and inaugurated The Thomas Nelson Suite upstairs as the plaque there shows, and Tom Ewing painted a copy portrait of that ancestor that hangs there today.

Of course the Gothenburg is also home to the Battle of Prestonpans 1745 Heritage Trust and the Scottish Battlefields Trust, and hopes shortly to present the new drama of the Prestonpans' members of the International Brigade in Spain in the 1930s.

May they know there'll always be a grand welcome for them at The Gothenburg .... breakfast special/ luncheon and supper times ...





... delighted they were back again ... in August ...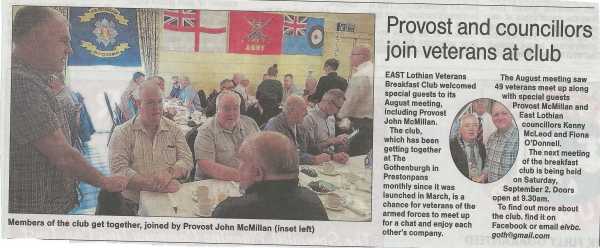 In 2018, when the next major re-enactment takes place in Prestonpans, two beautiful Memorial Tables will be blessed - one for the Redcoats and one for the Highlanders who took part in September 1745. They have already been carved by Gardner Molloy; and the Trust is just awaiting the right moment for their installation... which we trust will be September 15th ...




Published Date: March 17th 2017