Scotland's CAMRA Pub of The Year? Almost .. we were Runner Up!
Delighted we are doing a lot right... but obviously still got something to Learn

Everyone at The Prestoungrange Gothenburg is immensely proud to be held in such high esteem by CAMRA members. In 2005 they voted The Goth the best conserved pub in the entire UK and English [yes English] Heritage agreed. Since then they have successively voted The Goth as '2006 Pub of East Lothian', '2006 Pub of Edinburgh & SE Scotland' and now 'Scotland's Second Best Pub of the Year'. None of that seems to be too bad going after just 2 years back in business as the hub of the Prestonpans society and its arts community.

But our congratulations must go to Michelle & Chris at The Failford Inn in Ayrshire [pictured below] that won the ultimate accolade of 2006 Scotland's Pub of the Year. Clearly a spot worth a visit for anyone who loves The Goth - indeed we are already planning a Wiles bus excursion to them in the New Year.

click on all images to enlarge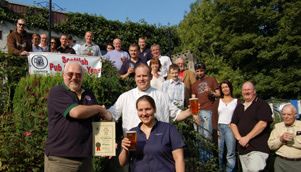 Very special congratulations must go to Craig Allan who has made the ales in his microbrewery that have captured CAMRA's imagination - the Porter, the IPA and the 80/- in particular as well as the Music and Beer Festival's re-creation of the town's legendary Wee Heavie dubbed The '45. [It's a little know fact that Fowler's was established in the same year as Bonnie Prince Charlie's vistory in The Pans over the Hanoverians.] He, and Steven Cross who holds the licence at The Goth for East of Scotland, graciously invited the Baron to receive the award certificate.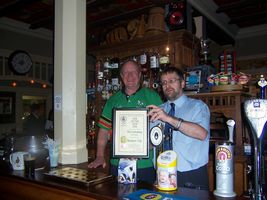 BrewSets Continue to Attract... but Guess who's coming soon?

One of the unique aspects of the 'post 2004' brewing history of Fowler's in Prestonpans is the determination to involve as many as wish in helping us brew and thereby gaining a greater understanding. BrewSets as they are called, small teams or groups, create their own fine beverage admittedly under Craig Allan's supervision. And yes, its true that Michelle and Chris from the Failford Inn have booked into a BrewSet for the near future. So it seems they accept we even have something to teach the winner. Humility indeed; and we greatly look forward to that.

The 80/- Challenge

In accepting the Runner Up Award, the Baron issued a challenge on behalf of Fowler's Ales [Prestoungrange] to Michelle and Chris and their supporters at The Failford Inn. Learn well at your BrewSet, create an 80/- Ale in competition with our Head Brewer and we'll go to a blind taste test with you in 2007.
Published Date: October 27th 2006