CAMRA & English Heritage Know a UK Winner!
The English and CAMRA are Mightily Impressed with our Conservation and Rejuvenation

The winners of the five prestigous Campaign for Real Ale [CAMRA] Pub Design Awards 2005 have been praised by the judges as one of the strongest crop of entries in more than 20 years. We are mightily proud to announce that they included The Prestoungrange Gothenburg. They were officially announced on Thursday January 12 at a ceremony held in Bristol at Zerodegrees – winner of the 2005 'New Build' Award - illustrated below:

Click on all images to enlarge



Pub Design Award Judge Steven Parissien, Dean of Arts and Professor of Architectural History at University of Plymouth, said: "This year's award winners represent one of the strongest and most eclectic set of designs it has been our pleasure to announce in over twenty years. Between them, they prove that investing in good pub design, whether this involves creating a contextually sensitive new build pub or rescuing a much-loved landmark from dereliction and decay, makes good economic as well as social and aesthetic sense."

Adele Conn, Montjoye at the Goth, and Head Brewer Craig Allan, travelled to Bristol to collect the award. Craig is the third generation of his family to work in brewing in the Pans. His ancestors both worked for Fowler's of wee heavy fame. Craig [left] is shown below with Andrew from English Heritage receiving the commemorative plaque: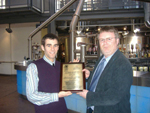 The CAMRA/English Heritage Conservation Award came to us at The Prestoungrange Gothenberg in Scotland

The judges' citation reads: "The 'Goth' dates from 1908 and is one of only three surviving 'Gothenburg' pubs, semi-temperance outlets created to limit alcohol abuse, in which staff originally received bonuses for selling soft drinks and food rather than beer and spirits. Profits above 5% ROCE were given to the local community.

"By 1960 all but two Scottish Gothenburgs - a concept imported from Sweden to Edwardian Scotland by Thomas Nelson and others - had succumbed to commercial pressures and abandoned their original moral stance. Cleverly though, the phoenix-like rebirth of The Prestoungrange Gothenburg has reinterpreted Nelson's original charitable enterprise for the 21st century, with surplus profits being channelled into the local Prestoungrange Arts Festival and related arts initiatives to stimulate socioeconomic regeneration. In addition, while the first Goth sold beers from the now-defunct Prestonpans brewery, Fowler's Prestonpans Ales, its worthy successor, brews its own beer on-site.






"Here is a pub which celebrates, not hides, its colourful history, and which makes excellent use of its unusual floor plan. The differing bars, each with their own sense of tradition and atmosphere, have been admirably restored. Congratulations to Steve Larcombe of Purple Design and their client, East of Scotland Public House Limited, for a gutsy and full-blooded conservation success."

Scottish National & Industry Press told the tale out loud!

It was good to see the Award we gained widely reported in the Scottish National and the Industry Press. A selection is given below:

Edinburgh Evening News
East Lothian News
CAMRA's What's Brewing?
Europe Travel News
The Publican

Time to Celebrate in the Pans: February 9th

Winning such a UK-wide award is a tremendous feather in the Goth's cap. And coming with 'English' endorsement adds to the delight. So Thursday, February 9th was earmarked for a Big Celebration - with the whole town invited. The Provost, Councillor Pat O'Brien, was scheduled to attend and to relish the first tasting of Craig Allan's Celebration CAMRA Brew; and to remember the days some good while ago when he held his wedding reception at The Goth. It was he as a local Councillor who ensured The Goth was Listed in 1984.

Prestonpans & District Pipes and Drums were invited to give their customary excellent introduction to the evening followed by Yard of Ale in the James Fewell Bar.

And so it came to pass as pictured below: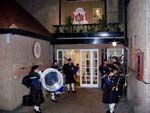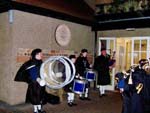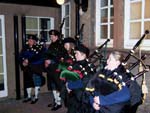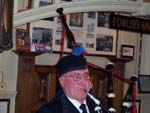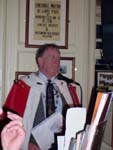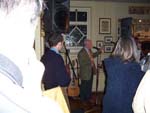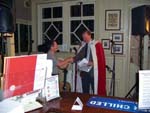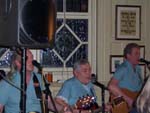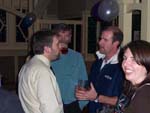 Published Date: February 16th 2006