Smoking ... its Going, Going to be Gone at the Gothenburg!
Scotland Follows the Irish ... and the Welsh

March 26th will see no further smoking at the Prestoungrange Gothenburg, either in the James Fewell Bar or the Garden areas. The new laws in Scotland come into effect then .... The local press pictured Lee-Anne stacking up ashtrays in the James Fewell Bar for the last time!

And now we learn from Westminster somewhat late in the day that even the English are planning to follow the Celtic fringe example ... ... but not till 2007 ...

Click on the images to enlarge

GOING.... GOING....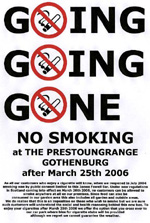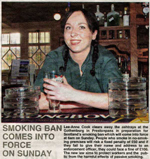 Published Date: February 17th 2006