12th/ 19th February - Tapestry will be enlivened at Scottish Story Telling Centre Edinburgh
Watch this space .. or rather watch the Netherbow Port!

The Scottish Story Telling Centre gives its address as 43/45 High Street, Edinburgh. Jacobites know it best as the Netherbow Port [alas long demolished]! That's the Gate through which Cameron of Lochiel and 900 Highlanders took Edinburgh for the Prince on September 17th 1745. The Gate is of course remembered for perpetuity in Maeve Greer's Panel #52 of the Prestonpans Tapestry here below. And Yes, the Alan Breck Regiment does have plans to take the city again! Monday 12/3pm!




As well as the Alan Breck's then ... be advised the Scottish Story Telling Centre has the Battle of Prestonpans Tapestry on display from Saturday Ferbuary 12th/ Saturday 19th inclusive.

OPENING TIMES 10 am - 6 pm Daily [not Sunday]
Children and adults of course absolutely welcome all day.

The StoryTelling Centre's website tells the tale thus: "The Battle of Prestonpans Tapestry vividly tells the story of the Jacobite Rebellion of 1745 from Bonnie Prince Charlie's arrival, to his invasion of England. The creation of the Tapestry has been co-ordinated by the Battle of Prestonpans (1745) Heritage Trust, a Scottish charity which aims to preserve and interpret the rich heritage the 1745 Rising has left for Scotland. They commissioned the artist Andrew Crummy to design the one metre long panels which, when embroidered by the volunteers, would then come together to create this massive piece of work. The result is a stunning array of bright colours and lively illustrations, recording the people, places, and communities involved in the '45."

And of course there's StoryTelling all the while by The PansTellers led by Panner Tim Porteus and a Thursday soiree with Stuart McHardy and Arran Johnston. All the details given below are extracted from the Centre's own website.

click to enlarge and print out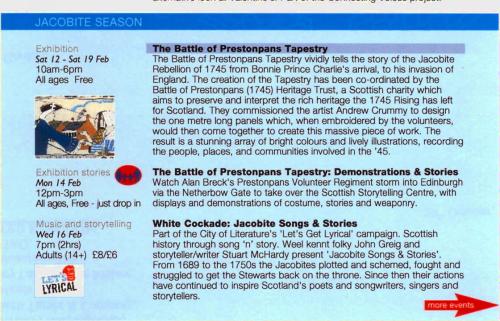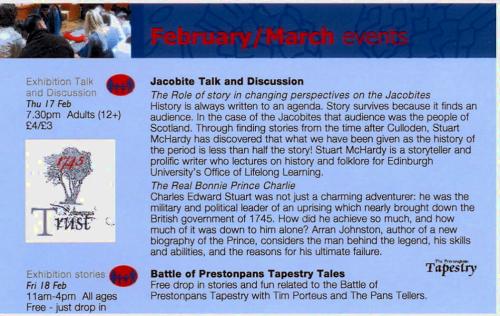 Published Date: December 21st 2010